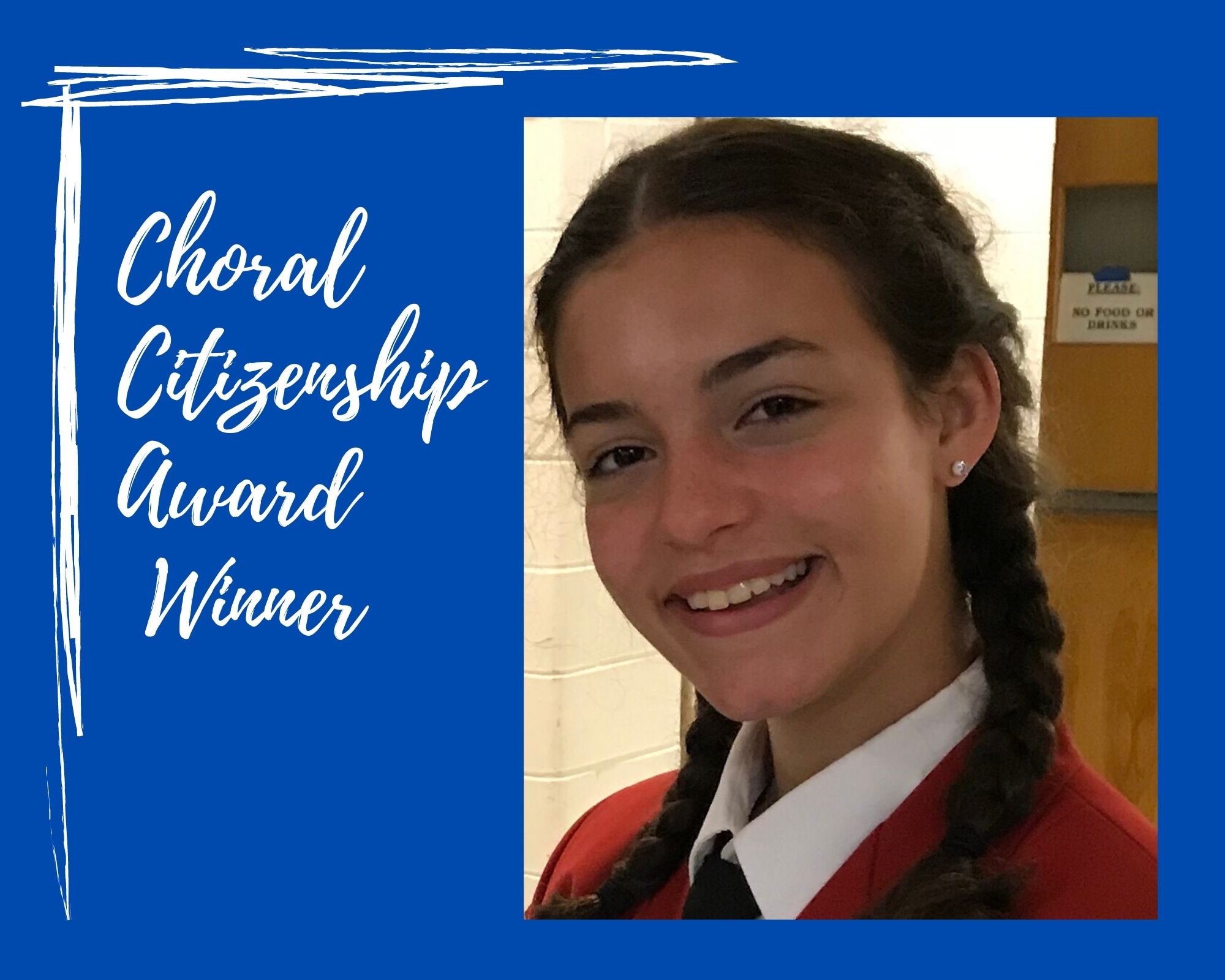 Citizenship Award Winner
Columbus Children's Choir awards scholarships annually through essay competitions. These prestigious awards are given to singers who lead and excel in and outside the choir. The Choral Citizenship Award has been given to our own New World Singer, Alana. Look for the announcment of the  Dr. Sandra Mathias Legacy Award next week.
---
Alana
4th year with CCC
11th grade at Upper Arlington High School
People have different ideas about what it takes to be a leader. Some think leadership comes from power; others believe it comes from money. To me, leadership comes from opportunities.
I was eleven years old when I moved to the United States. As a natural-born Brazilian citizen, I grew up speaking Portuguese at home. Moving to the United States was the biggest challenge of my life: from adapting to the culture to learning a foreign language, it seemed that all these hurdles piled up on top of each other, creating a wall that was impossible to climb. I never thought I would overcome these obstacles until I joined the Columbus Children's Choir—a group that made me feel accepted, and gave me the opportunity to express myself without the fear of being misunderstood.
Next year will mark the beginning of my journey as a fourth-year New World Singer. Nonetheless, every concert feels just as special as the first. Each time I set foot on a new stage, I can't help but have a radiant smile on my face—in fact, I have had many occurrences during these past three years where people would come up to me after concerts and tell me my joy of singing is clear and inspirational. Every concert means a new challenge, a new opportunity to tell beautiful stories through music. Our director always says that it is our responsibility as performers to give our audience the best performance possible. Achieving this ambitious goal takes valuable skills: discipline, focus, commitment and teamwork. Performing with the Red Jackets helped me not only to develop these skills, but also to translate them into different areas of my life. For example, much of my academic success can be attributed to what I learned at rehearsals about rhythm and routine, while my work ethic and sense of community would not have been as polished if not for choir.
In my second year as a New World Singer, it was this sense of community that pointed me towards a path that would later lead me to something very special in my life. It struck me that there are children living in poverty who may have incredible musical talent, but not the means to invest in it. I started looking further into this matter, and grew determined to help those who struggle with finances in my community. Unlike me, these children do not have the opportunity to make beautiful music with other people who share this passion. This realization is what led me to start a personal project that I called the Crescendo Project.
Crescendo is a term in music used to describe a gradual increase in volume. Likewise, the Crescendo Project was designed to help talented less fortunate children to grow by providing them with an opportunity to make their voices heard. I first presented this idea for around 400 people at the 2019 O2 Conference, hosted by David White from the Upper Arlington Lutheran Church. That night, I received funding and a mentor to help my idea become reality. A year later, I was able to co-produce a concert of the two Upper Arlington middle school honor choirs, along with the Ohio State University Men's Glee Club, to spread awareness about this issue. The children had the opportunity to work with the prestigious group throughout the day in order to enhance their musical abilities, and many of them made friendships lasting to this day. With the remaining funds from the conference, I am currently working to fund a need-based scholarship for musical education, whose recipient is to be a child in middle school who expresses a large interest in music.
The New World Singers inspired me to share my story with the rest of the world. Music taught me that leadership does not come from power or money, but from opportunities. I am proud of what I do, and I am honored to be making future leaders of our generation through the Crescendo Project. I only have two more years with this group; however, the skills I learned from being a New World Singer will stick with me for a lifetime. As a leader in my community, I will continue to do whatever I can to help provide more children with this opportunity. Many years from now, when I open my closet and see that Red Jacket, the wonderful memories I made and all of the dreams I helped come true will all come back to me.
Inspired by what you read today? Just $25 buys a full year's worth of sheet music for our youngest singers. Make your gift today