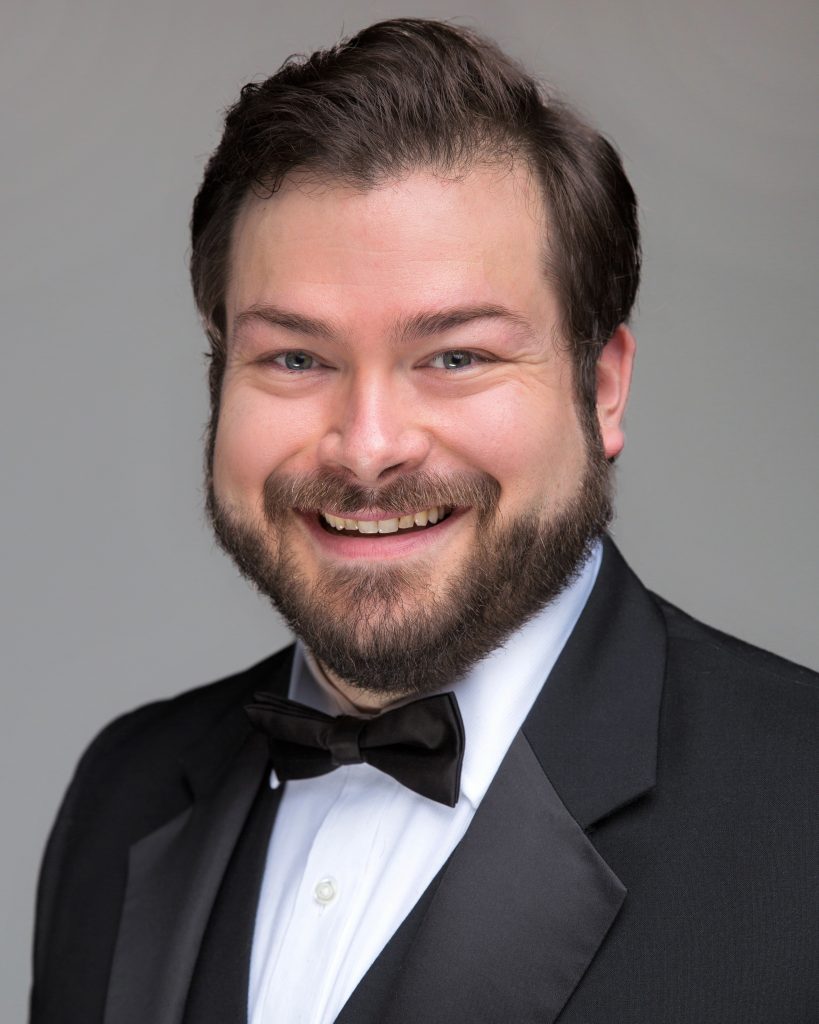 This week, we are shining a spotlight on John Nevergall's work with Columbus Children Choir in the Spring of 2019. John was recommended to CCC by a colleague from The Ohio State University School of Music to help out with our In Your Schools program. In Your Schools is a partnership with Columbus City Schools that sends a teacher into a classroom to provide support and creative collaboration to the music students and teacher in a high-need community. For the last five years, CCC has been welcomed into Starling PK-8 in Franklinton and privileged to work alongside music educator, Laura Smith. Generous funding for this program is provided by The Ohio Arts Council. 
John is an Ohio native whose musical training began with classical and jazz percussion. He received a Bachelor's Degree from Valparaiso University in 2008, at which point he began his graduate studies at The Ohio State University in historical musicology. With the encouragement of the OSU voice faculty, John began a Master's Degree in Vocal Performance — a program he completed in 2011.
As an accomplished tenor, John has held residencies at the prestigious Boston University Opera Institute, the Young Artist Program at Tulsa Opera, the Bonfils-Stanton Artists Training Program at Central City Opera, and the Des Moines Metro Opera. John has performed in many famous roles, including the tenor solos in Handel's Messiah, Verdi's Messa da Requiem, and Beethoven's Symphony No. 9. A few of John's other roles include Don José in Carmen and Goro in Madama Butterfly. To learn more about John's career, visit his website!
Whew! Let's get to know John a little better.
Q: What is your favorite food?
A: I love to cook, especially when I am experimenting with new recipes. However, if I had to choose one thing as an absolute "favorite," it is Graeter's Mint Chocolate Chip ice cream. There's nothing better — it cures all ills.
Q: What do you like best about working with CCCIYS?
A: One point has been made resoundingly clear during my relatively short time in the CCCIYS program: the future of music is in good hands — from the students who will continue to make music in whatever way they choose, throughout their life; to the outstanding teachers who work tirelessly to provide those students with the understanding and techniques necessary to always make a joyful noise. Playing a small role in this has been a tremendous opportunity for me to grow, as a teacher and a performer.

Q: What is your favorite holiday and why?
A: Oh my… this one is tricky. Any holiday (or regular day, for that matter) that involves friends, family, fun, and good food is aces in my book. I will say, though, that July 4th has come to hold a special place in my heart. Recently, my summers have been spent traveling, working interesting jobs, or performing at various music and opera festivals — sometimes all three! Usually the Fourth of July ends up not only being a day to relax, but also an opportunity to watch the traditional fireworks in some truly interesting places: atop a mountain of silver mine tailings in Colorado, in front of the Brandenburg Gate in Berlin, and at the Charles River Basin in Boston, to name a few. Plus, you know… cookouts!
Q: Do you have a favorite musical memory?
A: I have many of these. At the top of the list right now comes from a production of Carmen, with which I was involved at Ohio State some years ago. I was the cover (understudy) for the principal tenor role (Don José) and there was time in the production schedule to allow for a "cover run" — a full run of the show for the understudies, on the stage. Getting to do a full cover run can be rare, so I was both nervous and excited. The opera is four acts long and Don José has a considerable amount of singing to do. By the beginning of Act IV, I was feeling very tired and was, therefore, even more nervous. Before I went on stage, I took a brief moment to remind myself of a mantra given to me by my teacher: "just open your mouth and sing." Basically, don't over-analyze, don't worry, just go out there and do the work you have been training so hard to do. And that night, I was able to get out of my own way and really just open my mouth and sing. I don't remember much about that final act; I was so focused upon the story and not critiquing the minutiae telling of it. But I know that I found an honesty that night that was truly special. 

Q: Is there any little known fact about you that you'd like to share? 
A: I am very passionate about soccer. I played when I was young, I used to be a licensed referee, and today I cheer heartily for our hometown Columbus Crew SC, as well as VfB Stuttgart — a professional club in Germany.
By Carmen Greiner
Inspired by what you read today? Just $25 buys a full year's worth of sheet music for our youngest singers. Make you gift today.