When I was asked to write a short piece about holiday cooking I thought, "I don't cook so what in the world am I going to share?" I started rummaging through my stash of cookbooks looking for those dog-eared pages marking my favorites. What I found was a treasure from my very first year as a CCC parent and choir manager—a cookbook published as a fundraiser for the 2007-2008 season.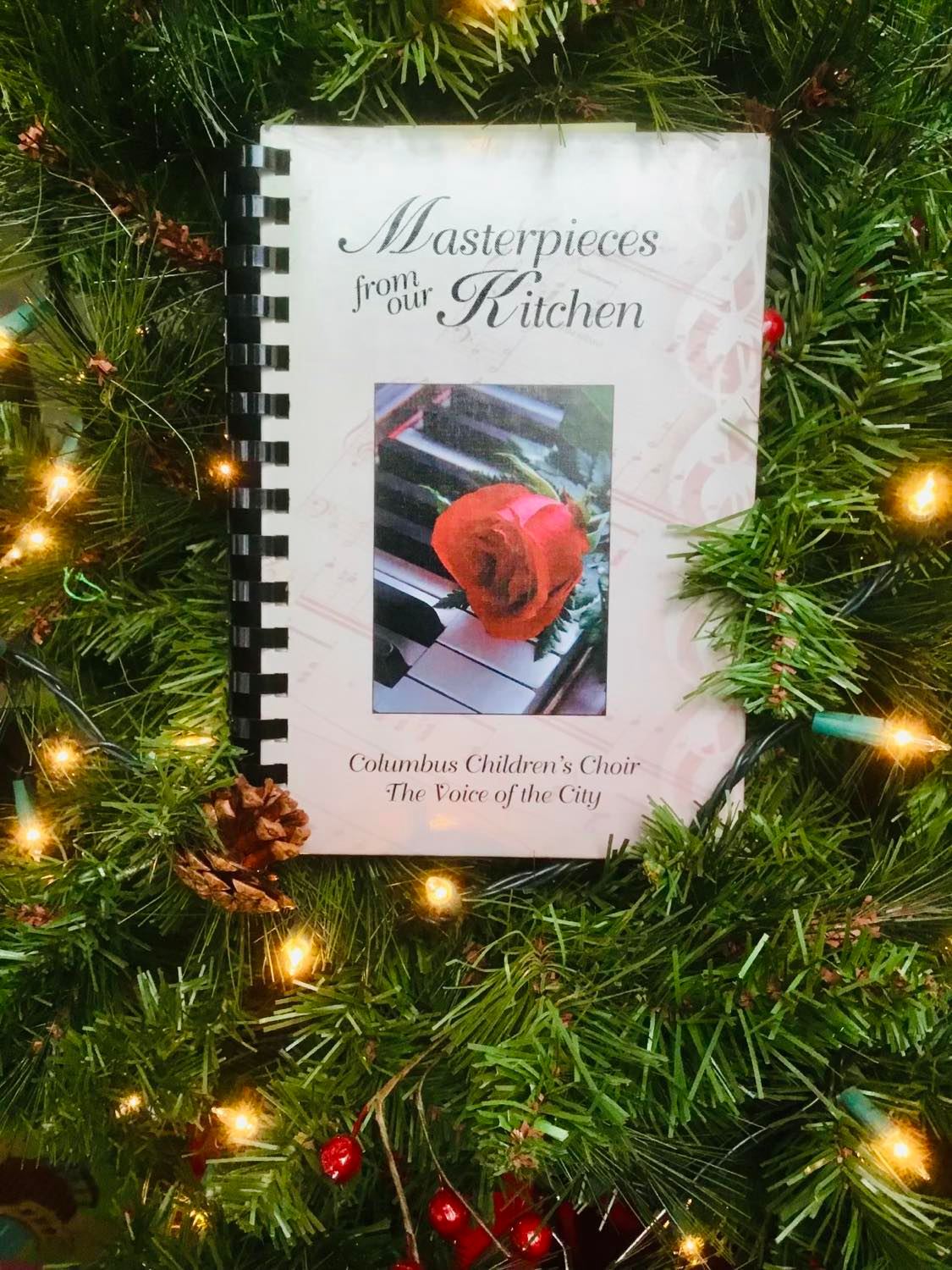 I flipped through the pages looking for the recipe my then 3rd grader (she's now 23) submitted. Yep, there it was on page 48. Green Chile Chicken Enchilada Casserole by Aunt Martha B in Texas. As I read through the rest of the cookbook, a pattern emerged. Horseradish! Even recipes that should never have horseradish… 
As I was looking for that perfect recipe to share, it dawned on me that we do have a favorite tradition in the Gebara house—crepes. I use a recipe from a 1986 edition of Betty Crocker. I put on my special green apron that has Scooby Doo on the front, dig out my crepe pan, set up my cooking station on the kitchen island and whip up a double batch of crepe batter. My girls all sit on the other side of the island counter, waiting with empty plates. I fill empty plates as the crepes slide off the pan. Twin A, twin B, and baby girl in that order. Repeat again and again until either they are full or the crepes are gone. Of course, I make sure to grab one for myself every now and then. Many people fill their crepes with all kinds of sweet or savory fillings. Not us. Takes too long!  We spread on strawberry jam or honey pecan cream cheese (only Philly brand will do). We laugh, we banter, we eat lots of crepes. It's always a special morning when mom digs out the crepe pan and puts on her Scooby Doo apron.
But back to the CCC Cookbook from 2007. I'm sharing a couple of the more horseradish-y recipes for a laugh, but I've  also included Aunt Martha B's green chile enchilada recipe and my crepe recipe. If you try any of this stuff, drop me an email and let me know your thoughts!
Happy Holidays,



Tammy Gebara, Phd
Program Manager
tammy@columbuschildrenschoir.org
---
Grandma's Secret Ingredient Jello Salad (Liz Meyers)
1 small pkg lime jello
1 small pkg lemon jello
2 cups hot water
1 8 oz pkg cream cheese cut into small pieces
1 cup crushed pineapple, drained
1 cup mayonnaise
1-2 T. horseradish (secret ingredient)
1 cup milk
In a large bowl dissolve Jello in hot water. Gradually add cream cheese blending with a whisk until the cream cheese bits become small. Chill in the refrigerator until slightly thickened. Add mayonnaise, horseradish, milk and drained pineapple. Pour mixture into a mold or an 8×8 inch square pan; chill overnight. Jello can be served on a piece of lettuce garnished with a maraschino cherry. Goes well served with roast beef.
---
Cheese Spread (Beth and Ellen Butts)
2 lbs Velveeta cheese
1 cup mayonnaise
½ cup horseradish
Cut Velveeta cheese into chunks and melt in the microwave.
Add horseradish and mayonnaise; blend together.
Serve with crackers and/or tortilla chips.
---
Betty Crocker's Crepes
1 1/2 cups all-purpose flour*
1 Tablespoon sugar
1/2 teaspoon baking powder
1/2 teaspoon salt
2 cups milk
2 tablespoons margarine or butter, melted
1/2 teaspoon vanilla
2 eggs
Mix flour, sugar, baking powder and salt in 1 1/2 quart bowl. Stir in remaining ingredients. Beat with hand beater until smooth. Lightly butter 6-8″ skillet; heat over medium heat until bubbly. For each crepe, pour scant 1/4 cup of the batter into skillet; immediately rotate skillet until thin film covers bottom.
Cook until light brown. Run wide spatula around edge to loosen; turn and cook other side until light brown. Stack crepes, placing waxed paper between each. Keep covered.
If desired, thinly spread applesauce, sweetened strawberries, currant jelly or raspberry jam on warm crepes; roll up. (Be sure to fill crepes so the more attractive side is on the outside.) Sprinkle with powdered sugar, if desired. 12 crepes; 115 calories per crepe
*If using self-rising flour, omit baking powder and salt
---
Green Chile Chicken Enchilada Casserole (Aunt Martha B, Texas)
3 chicken breasts, cooked and shredded
2 cups roasted, peeled, and chopped green chiles
1  24oz can cream of chicken soup
1 can milk – use soup can to measure
2 cups shredded cheese
1/4 cup chopped onion
10-15 corn tortillas, torn into quarters
1/4 tsp salt
1/4 tsp pepper
1/4 tsp garlic powder and/or fresh minced garlic from a jar
Preheat oven to 350. Combine chicken, soup, milk, green chiles, salt, pepper, and garlic in saucepan. Bring to boil and stir. Remove from heat. In a 13×9 inch glass pan, layer alternating between tortillas and mixture. Cover with foil and bake for 20 minutes. Uncover and bake an additional 20 minutes or until casserole begins to pull away from side of pan.
00days00hours00minutes00secondsleft to have gifts of $100 or matched up to a total of $5000. Make your gift today to ensure your match!